Thanks for looking be sure to follow me on Instargram: @brian_ulibarri http://instagram.com/brian_ulibarri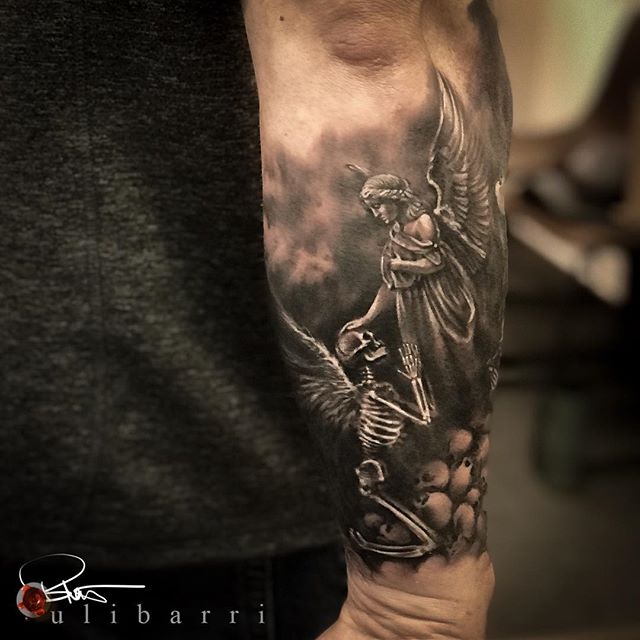 I mostly like to focus on custom realism pieces. I like to work on big tattoos, sleeves, backs, legs and most of all I LOVE movie themed tattoos! I don't really have a preference between color or black and grey I like both, I believe some tattoos look better in color and some look better in color. Although I work mostly in hyper realism I do like to create surrealistic or abstract design compositions, I love to be creative with my tattoo designs as well as my art.
Santa Fe Locals
If you are local to Santa Fe and are interested in getting some work done please come by the shop anytime. We are excited to meet the community and have no problem meeting with you to talk over your ideas. I am usually at the studio from 10:00 – 6:00 pm. We are also an Art Gallery with Original Art for sell and Prints of almost all my work for sell too.
3012 Cielo Ct A1 Santa Fe NM 87507     
For everyone inquiring from out of town:
*** I am now in my own studio in Santa Fe New Mexico: The Ulibarri Ink & Art Gallery***
Things you need to know:
I don't tattoo on Sundays, Mondays or Thursdays so I would need to know what days of the week are good for you during daytime hours usually I start at 11:am.
I  do ask for a *non-refundable $200 deposit to book an appointment this does go towards your first tattoo session. If you are booking multiple sessions you only need to pay this once. Should something come up your deposit is non-refundable but you can reschedule if I have 48 hours notice and your deposit will still be good, if it is less notice than that you can still reschedule but your first deposit will be lost and you will need to pay another deposit. All deposits  are sent to your email from PayPal.  You can pay with any card you don't need an account.
I only work on designs after you set an appointment and I receive the deposite. I would like to get designs out to people early but with the schedule I keep the only thing I can guarantee is the week of the appointment.
Since I am only at the shop by appointment I don't do any in person consultations, submission by email is much more organized and efficient for me since it's impossible for me to remember everything you say during a face to face consultation or to look back on notes 4-5 months down the road.
I do get cancellations so if you contact me for a tattoo I will first look through my cancellation dates which could be very soon so please be prepared for that when contacting me. I do also post open cancellation dates so be sure to follow me on Facebook and Instagram to see those, which are first come, first serve.
If you are coming to Santa Fe New Mexico, I will be doing coverups for a limited time to help build up more clientele.
I greatly appreciate all my clients and thank you all for requesting a tattoo from me. Unfortunately I can not take on every tattoo submission. I am trying to further narrow my projects to create a specific body of work of style and imagery and creativity and not every tattoo idea will fit. For example sometimes I get a lot of the same tattoo ideas and don't want to do too many of the same thing, or get overwhelmed with too many large or long on going projects, or if I don't feel that I can make something truly unique with  the imagery of the design then these are a few reasons I may pass on your tattoo.  If  I do pass on it please do go to www.millertattoostudios.com or www.blackwooddenver.com and you will be sure to find a great artist to work on your project.
*cash only*