Profile: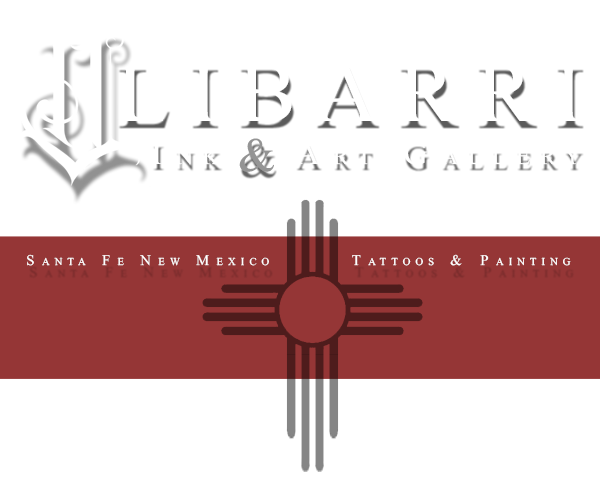 _________________________________________________________________________
Featured Ink:
Brian Ulibarri: Tattoos Art – Realism, Portraits | Ulibarri Ink & Art Gallery
Follow Me on Instagram:
@brian_ulibarri http://instagram.com/brian_ulibarri
Famous Faces:
Welcome to the Ulibarri Ink & Art Gallery, my name is Brian Ulibarri. I am the owner and artist of a private tattoo studio and gallery in Santa Fe New Mexico. Portraits are what I love most! Black and grey or color realism, it doesn't matter to me. Celebrity or movie portraits are my favorite!
Brian Ulibarri: Tattoos Art – Realism, Portraits | Ulibarri Ink & Art Gallery
My Story:
My name is Brian Ulibarri I am a father, husband and Christian. I work as a tattoo artist originally from Raton New Mexico. In 1997 I moved to Denver and lived there for twenty years. God blessed me with a wife that gave me a family and a career in tattooing. In 2006 I started an apprenticing at a street shop in Denver. I then  worked there for three years.
My next chapter of life is now in Santa Fe New Mexico starting with my own private studio called Ulibarri Ink & Art Gallery. The family is excited to be here. There is a wealth of culture here like no other. Santa Fe is a mountain town with all the lots of outdoor activities. The Art Scene here is ridiculous. Of course one of the biggest attractions here now is the one and ONLY Meow Wolf. If you haven't heard of it yet check it out! Oh yeah, the food alone is worth traveling any distance! Red or Green?
From as far back as I can remember I have always been a traditional media artist. Drawing and painting is how I spent most my life.  A ball point pen and watercolor is what I do most. As of recently I am starting to work with oils now and I love it. My favorite subject matter of course are portraits and surrealism with lots of detail. In Denver Colorado I was a member of CHAC Art Gallery (Chicano Humanities Art Council). Now I am hoping to be a part of the thriving art community of Santa Fe New Mexico.
Book Your Appointment
Since starting my Private Studio I tattoo by appointment only and I travel for conventions and guest spots as well. I design most everything I tattoo.  I work mostly in: realism, painting effects, surrealistic, big custom pieces and portraits are my favorite. If  you're interested in getting some work done let me know as soon as possible to make an appointment. For all booking info go to my "Scheduling an Appointment Page"   email: brian.ulibarri@gmail.com
Brian Ulibarri: Tattoos Art – Realism, Portraits | Ulibarri Ink & Art Gallery
[/two_third]  
ULIBARRI SULLEN BADGE T-SHIRT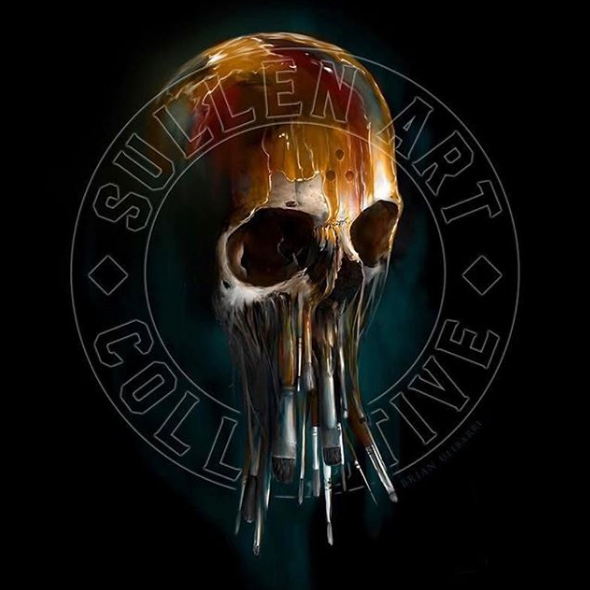 The Sullen Art Collective have been perfect ambassadors of the culture, history and the future of this industry. They are for the artists of tattoo community and have always been "Art Driven" It is an honor to be recognized and accepted by The Sullen Family…
Movie Portraits: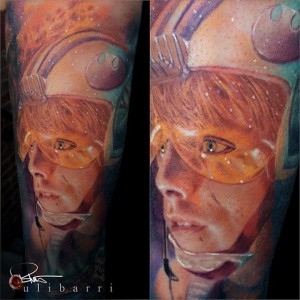 I have a love for movies and movie themed portraits. I want to fill my portfolio with them…..   Email  your ideas…
Watercolor Portraits:
This painted style portrait is a style I really want to do more of. You can find a similar style in my art gallery, something I really want to bring to my tattoos as well. Email your ideas…
Inked Online Magazine: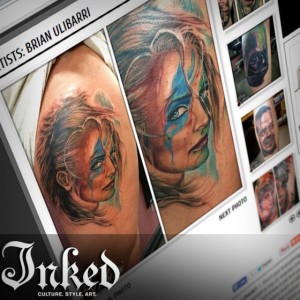 Check out my Artist Interview on Inked Magazine Online for some more background on me…
Tat2 Magazine Online: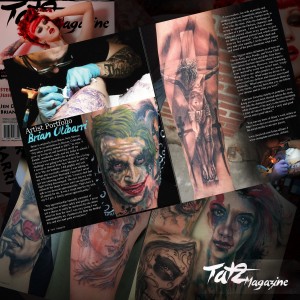 Check out my Artist Interview from Tat2 Magazine Online for a more in depth background on me…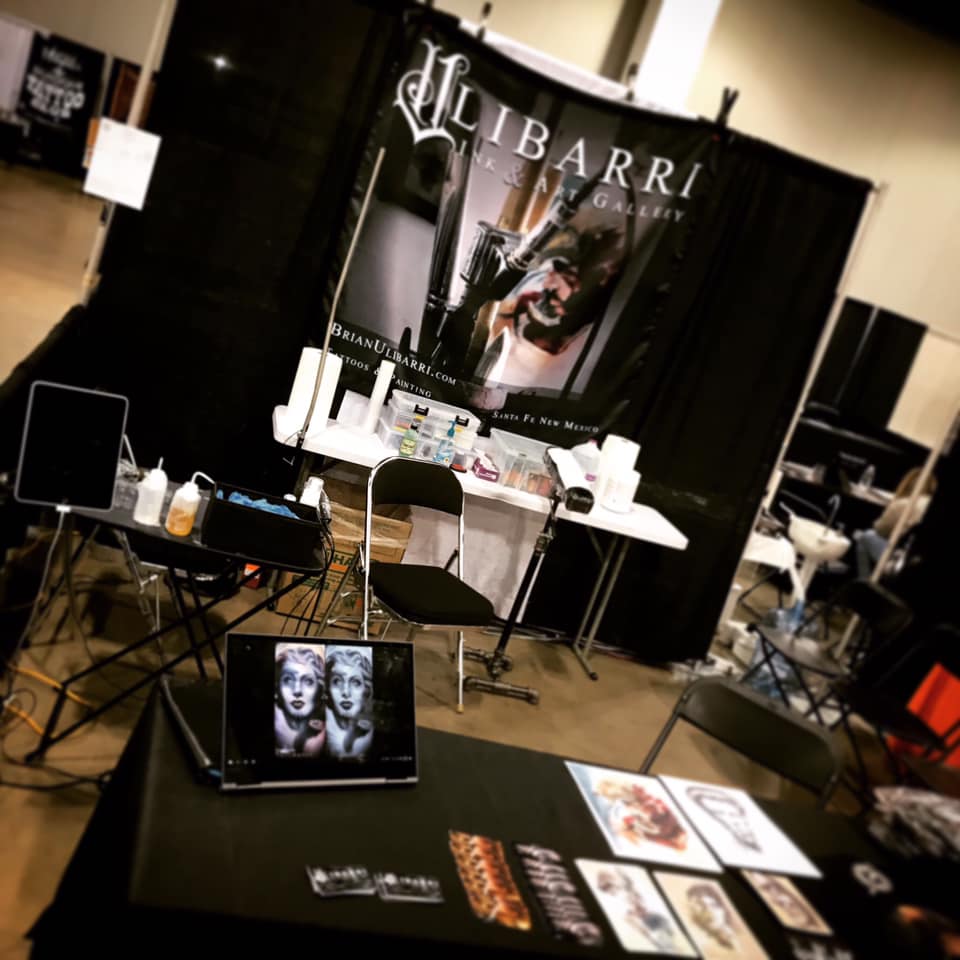 Loved doing this Denver show it's so good to see all these artist I started tattooing with and to see all the youngins coming up in Denver. Also got to see a few friends and long time clients, thank you guys so much for taking the time to stop by!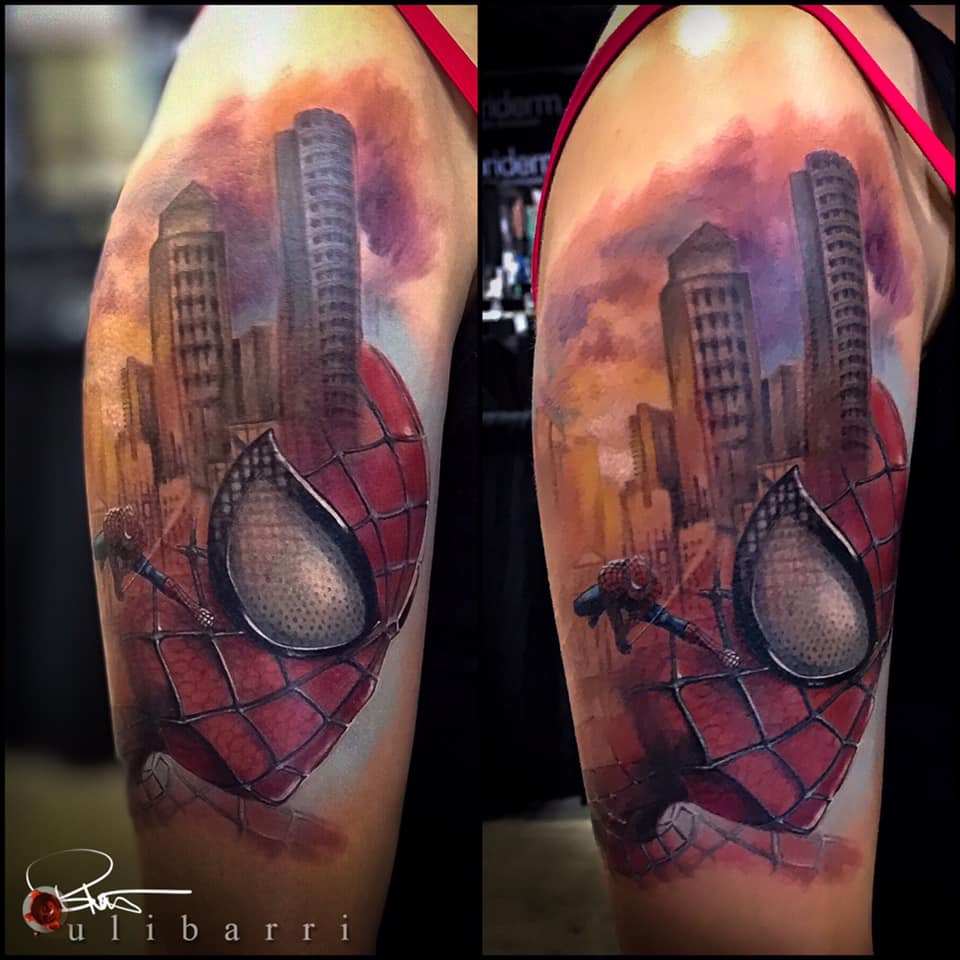 I did this surrealism Spiderman tribute piece, so much fun!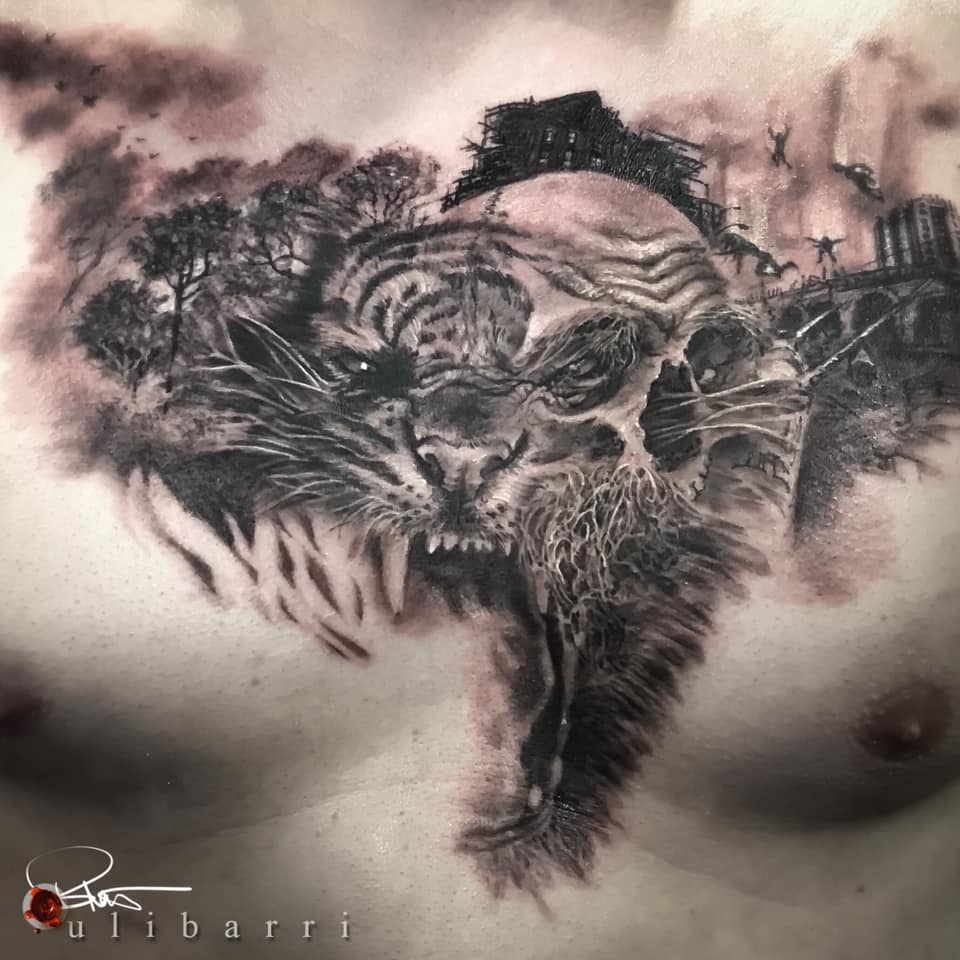 Did this piece on friend/client, just the beginning of an awesome chest piece. He will be coming down to Santa Fe in a few months to finish it up.
We are excited to announce that we have moved locations. We now have a bigger studio in the Lena Street Lofts off 2nd Street and Lena. We plan on having a Grand Opening here soon. We are still in the process of filling the Gallery with some more Artwork. We are excited to be part of the Art Gallery scene here in Santa Fe with art mostly from other tattooers.
If you have artwork you would like us to consider for the gallery please email us some samples of your work. We will see if it feels at home with our collection and will schedule you a showing or hang your work on going for sale.
We are also going to be opening up our studio to the public for "Paint Night" classes here soon. It all started with a "Paint and Praise" class through our church the students loved it and it was definitely a blessing from God to us as well, so we will certainly keep that going as well.
So much to look forward to in the new space! Here is a map below: