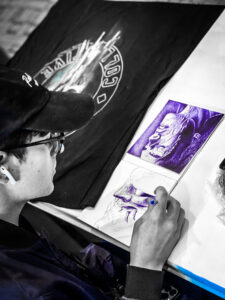 My name is Brayden Maez. I am an aspiring tattoo artist who has loved art all my life. I was born in Albuquerque New Mexico but have lived in several cities in different states because of my military family. In my free time I enjoy art, piano, gaming, and 3D printing.
Ever since I could hold a pencil I loved to draw. My parents noticed I had a love for art at a young age and when I was in elementary school I was signed up for art classes on base. I had a great teacher that taught me a variety of different mediums and the fundamentals of art. I took advanced art classes in middle school and learned even more.
During high school I only took two years of art and began to gain an interest in music. After graduating high school my girlfriend got her first tattoo, this led me to slowly gain an interest in the art of tattooing. When I turned 21 I got my first tattoo and immediately I was hooked! I became a huge tattoo enthusiast. I spent a ton of time researching artists, tattoo styles, and history.
One day I realized that I can be a tattoo artist. I started practicing my drawing again and it all came back to me. Just like that I felt as though I found my calling and I started doing everything I could to pursue my dream of being a tattoo artist.
For booking an appointment please email me at: [email protected]